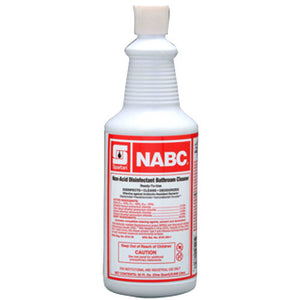 NABC Non-Acid Bowl Cleaner
Sale price
$39.95
Regular price
$47.54
A mild, non-acid, ready-to-use disinfectant bathroom cleaner /deodorizer. NABC safety and effectively disinfects, cleans and deodorizes toilet bowls, urinals and other hard, nonporo us restroom surfaces. Formulated without acid, NABC is non-c austic and non-abrasive. Safe to use on nearly any hard sur face-NABC will not etch porcelain, or pit fixtures-will not harm plumbing or septic tanks when used according to directi ons. Even accidentals spills will not result in ruined clot hing or carpeting. Effective against the antibiotic resistan t bacteria: Methicillin resistant Staphylococcus aureus (MR SA) and Vancomycin resistant Enterococcus faecalis (VRE). P seudomonicidal. Salmonellacidal. Virucidal...kills HIV-1 ( AIDS Virus), Herpes simplex Type 2, Influenza A2/Hong Kong V iruses and HCV (Hepatitus C Virus) on hard inanimate nonporo us environmental surfaces.
.
Customer Testimonials
In a world of empty superlatives, you are the genuine article. If anyone is looking for outstanding performance, send them to me. You do credit to your company and your industry. Best thanks.
--J. Goodman, Church of the Good Shepherd
I like your style of personal communication, transparency of your willingness to help the customer get what they're looking for and your very personable attitude. All are pluses in my book and truly represent a company I want our church to do business with in the future (and will tell other churches as well)!
-- A. Burki, St. Jude Church
---
Share this Product
---
More from this collection