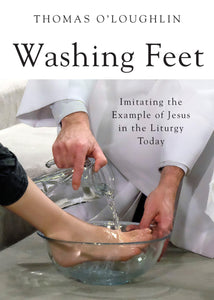 Washing Feet - LTP 4861
Sale price
$13.46
Regular price
$14.95
More than half a century after its introduction into the Easter liturgy, the rite of the washing of feet on Holy Thursday goes to the heart of what it means to take part in Christian liturgy—as well as to live a Christian life. In Washing Feet: Imitating the Example of Jesus in the Liturgy Today, Thomas O'Loughlin explores the significance of mutual footwashing in early Christian communities and in the rituals of churches today. Washing Feet is a sound and engaging combination of liturgical theology, historical exploration, and practical pastoral guidance. Clergy, liturgy committees, and RCIA leaders involved in Holy Week liturgies will find this a useful and accessible resource for understanding how this practice is a key to how ordinary Christians understand the nature of the church and their relationship to others within their particular communities.Thomas O'Loughlin is the author of The Eucharist: Origins and Contemporary Understandings and many other books. He is professor of historical theology at the University of Nottingham, UK.
.
Customer Testimonials
In a world of empty superlatives, you are the genuine article. If anyone is looking for outstanding performance, send them to me. You do credit to your company and your industry. Best thanks.
--J. Goodman, Church of the Good Shepherd
I like your style of personal communication, transparency of your willingness to help the customer get what they're looking for and your very personable attitude. All are pluses in my book and truly represent a company I want our church to do business with in the future (and will tell other churches as well)!
-- A. Burki, St. Jude Church
---
Share this Product
---
More from this collection