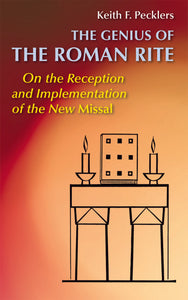 The Genius of the Roman Rite - LTP 6021
Sale price
$17.96
Regular price
$19.95
The Roman Rite has evolved over the centuries in very diverse contexts and situations, and it has endured to our own day precisely because of its capacity to adapt and be shaped by the distinct cultures where it has been celebrated. In 2002 the Latin third edition of the Missale Romanum was promulgated and in subsequent years episcopal conferences have been busy at work producing vernacular translations of that Latin text. As the English-speaking world prepares to receive and implement the English translation of the Missal, Dr. Pecklers' book is offered as an instrument of catechesis in helping clergy and laity alike to better grasp the rationale for the new translations by considering the wider context of the Rite itself. Keith F. Pecklers, SJ, is professor of liturgy at the Pontifical Gregorian University and professor of liturgical history at the Pontifical Liturgical Institute in Rome. He is the author of the following titles published by Liturgical Press: Dynamic Equivalence: The Living Language of Christian Worship; The Unread Vision: The Liturgical Movement in the United States of America 1926-1955; Worship: A Primer in Christian Ritual; and editor of Liturgy for the New Millennium: A Commentary on the Revised Sacramentary. He is also the author of "Liturgy from Trent to Vatican II" included in the Handbook of Liturgical Studies published by Liturgical Press.
.
Customer Testimonials
In a world of empty superlatives, you are the genuine article. If anyone is looking for outstanding performance, send them to me. You do credit to your company and your industry. Best thanks.
--J. Goodman, Church of the Good Shepherd
I like your style of personal communication, transparency of your willingness to help the customer get what they're looking for and your very personable attitude. All are pluses in my book and truly represent a company I want our church to do business with in the future (and will tell other churches as well)!
-- A. Burki, St. Jude Church
---
Share this Product
---
More from this collection