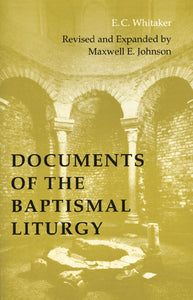 Documents of the Baptismal Liturgy - LTP 6200
Sale price
$35.96
Regular price
$39.95
Since its first appearance in 1960, Documents of the Baptismal Liturgy has been praised and used by scholars in understanding how the rite of baptism was celebrated through the centuries. This new edition retains the sources previously included and adds Eastern Christian texts from the great East Syrian Church Fathers, as well as selections from The Rite of the Assyrian Church of the East, the Syrian Orthodox Church, and the Maronite Rite. Additional Western texts include the famous Pentecost Homily attributed to Faustus of Riez, Letter 26 to Januarius from Pope Gregory I, and the Rite of Confirmation from the Pontifical of William Durandus. Instead of placing local councils together in one section, individual councils are now placed in their respective geographic locals. Bibliographical lists in a variety of languages have been added for each document studied or for each locale; and translations have often been replaced with more recent versions. The glossary and the introductions to each document make it accessible to the general, as well as the specialist, reader. Chapters are "The Ante-Nicene Church," "Syria, Syro-Palestine, Antiochia," "The Rite of the Assyrian Church of the East," "The Armenian Rite," "The Syriac-Maronite Rite," "The Byzantine Rite," "Egypt," "Africa," "Spain," "Milan," "Rome," "Gallican Documents," and "The Sarum Rite." E. C. Whitaker served as a parish priest and Canon Emeritus of Carlisle Cathedral, England. Maxwell E. Johnson, Ph.D., is a minister in the Evangelical Lutheran Church in America and is professor of liturgy in the department of theology at the University of Notre Dame.
.
Customer Testimonials
In a world of empty superlatives, you are the genuine article. If anyone is looking for outstanding performance, send them to me. You do credit to your company and your industry. Best thanks.
--J. Goodman, Church of the Good Shepherd
I like your style of personal communication, transparency of your willingness to help the customer get what they're looking for and your very personable attitude. All are pluses in my book and truly represent a company I want our church to do business with in the future (and will tell other churches as well)!
-- A. Burki, St. Jude Church
---
Share this Product
---
More from this collection