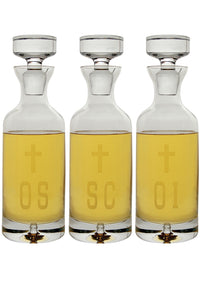 Ambry Set (Style K969)
Sale price
$335.75
Regular price
$395.00
This Ambry Set is made from hand-cut imported crystal and engraved with the following OI, OS, and SC, respectively. Each piece ships complete with its own stopper. See complete specifications, below.
O.I. Oleum Infirmorum: The Oil of the Sick or Infirmin is used during the Sacrament of the Anointing of The Sick, commonly referred to as "Last Rites" or "Extreme Unction".
O.S Oleum Sacrum: The Oil of Catechumens is used during baptisms and the rite of exorcism.
S.C. Sacrum Chrisma: The Sacred Chrism is used for anointing following the Baptism. It is also commonly used at Confirmation and during the Sacrament of Holy Orders.
Specifications:
Height: 12"
Base Diameter: 3-3/4"
Capacity: 32 oz.
Set of Three

Imported from Europe by Koleys.
.
Customer Testimonials
In a world of empty superlatives, you are the genuine article. If anyone is looking for outstanding performance, send them to me. You do credit to your company and your industry. Best thanks.
--J. Goodman, Church of the Good Shepherd
I like your style of personal communication, transparency of your willingness to help the customer get what they're looking for and your very personable attitude. All are pluses in my book and truly represent a company I want our church to do business with in the future (and will tell other churches as well)!
-- A. Burki, St. Jude Church
---
Share this Product
---
More from this collection