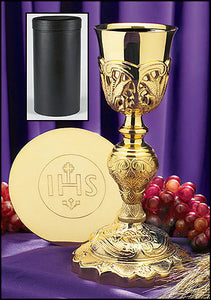 Coronation Chalice with IHS Paten & Case (Series NC901)
Sale price
$145.50
Regular price
$169.95
The Coronation Chalice with IHS Paten and Case is an exclusive design and manufactured using only the highest quality materials. Each piece is crafted of lead-free, 100% food safe brass and then 24kt gold plated. The cup, base and node are all ornately decorated while the paten is engraved with the letters "IHS". The set comes shipped with a leather carrying case that comfortably holds both pieces.
IHS is an ancient monogram formed from the first three letters —Iota, Eta and Sigma—of the Greek word for Jesus: IHSOUS. The letters also represent the phrase Iesous Hominum Salvator: Jesus, savior of man. -- Brass/Gold Plate, Leather Case -- 8 oz, 3 1⁄2" Dia x 10 1⁄2" H , 5 1⁄2" Dia Paten, 6" Dia x 12" H Case
.
Customer Testimonials
In a world of empty superlatives, you are the genuine article. If anyone is looking for outstanding performance, send them to me. You do credit to your company and your industry. Best thanks.
--J. Goodman, Church of the Good Shepherd
I like your style of personal communication, transparency of your willingness to help the customer get what they're looking for and your very personable attitude. All are pluses in my book and truly represent a company I want our church to do business with in the future (and will tell other churches as well)!
-- A. Burki, St. Jude Church
---
Share this Product
---
More from this collection